The hotel market is strong and on the upswing in New York City, with occupancy rates on a steady rise since 2009. The strong market means average room rates in current hotels are predicted to rise in the next year. But, as industry consultants are reminding hoteliers, the market is unpredictable. Read more...

In our Union's 76-year history, there have been plenty of arrogant and nasty bosses, but one of the owners of the Capri Whitestone Hotel in the Bronx may surpass them all as the most smug and heartless employer ever. Read more...

On October 22, 2013 Kellogg's locked out their union employees for rejecting the company's efforts to impose a plan under which all new workers would be employed as casual and part time with no assurance of work, significantly lower pay and a dramatic cut in benefits. Kellogg's calls this 'The New Workforce of the Future'. Read more...
---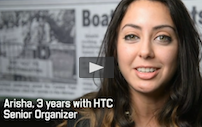 Join the Fight and Work for HTC
Interested in a career in social justice? Learn more about what it takes to be a union organizer fighting for the rights of hotel and gaming workers across New York City, northern New Jersey and the Capital District. Watch video...
---