On Tuesday September 26, Hilton Albany workers along with hundreds of their brothers and sisters in the Hotel Trades Council, allied organizations and elected officials rallied in support of the boycott of the downtown Albany hotel. The Times Union reported on the rally and Albany Mayor Kathy Sheenan's remarks, "Sheehan recalled supporting a city tax break package for the hotel, worth more than $1 million a year, and said hotel owners United Capital Corp. had "broken their promises" by failing to reach a contract with the Hotel Trades Council, which represents about 140 workers at the hotel." Read more...

"[HTC Executive Vice President and General Counsel Rich] Maroko said United Capital, which is negotiating its first contract with the union, wants to replace the pension with a 10-cent an hour match to a 401(k) plan. Other demands include cutting paid bereavement days from five to three, loss of a week of paid vacation time, and reduction of minimum guaranteed pay for workers called in on on their days off." Read more...

"The 32,000-member [Hotel Trades Council] is a fraction the size of more prominent labor organizations 1199 SEIU or 32BJ SEIU, but punches well above its weight thanks to an efficient and aggressive political arm. All 26 council candidates it endorsed triumphed Tuesday night, roughly half of them in competitive contests." Read more...
---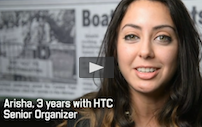 Join the fight and work for HTC
Interested in a career in social justice? Learn more about what it takes to be a union organizer fighting for the rights of hotel and gaming workers across New York and Northern New Jersey. Watch video...
---