In a historic day for our Union and its members and their families, ground was broken on March 19 for the new Brooklyn Health Center. When it opens less than two years from now, it will be the absolute best facility of its kind anywhere in the country. Read more...

Many members have been volunteering their time helping our Union with various activities to keep us strong. These activities have included canvassing, leafleting during political campaigns, phone banking and other tasks, and all of them are important to our Union as a whole. Read more...

According to a recent article on the popular real estate blog, DNAinfo.com, a new hotel, which bills itself as "tapping into [Bushwick's] 'Raw Feeling of Creativity'" will open in spring of 2015. The 116-room Bklyn House Hotel is just one of the many non-union hotels slated to open in 2015... Read more...
---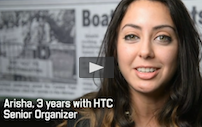 Join the fight and work for HTC
Interested in a career in social justice? Learn more about what it takes to be a union organizer fighting for the rights of hotel and gaming workers across New York City, northern New Jersey and the Capital District. Watch video...
---