Members of the Hotel Trades Council may be in for a decade of unprecedented economic security for workers in the hospitality industry. Read more...

On June June 5, 2014 the workers at the Hyatt Times Square officially became members of the Hotel Trades Council. Room Attendant Lorena Garcia commented "I can't tell you how thrilled I am about this. This is a great new hotel, and now that we all have the union, I know I will have stability at this job in the future." Read more...

New York City Mayor Bill de Blasio commended the Hotel Trades Council health care system in a conversation with journalists from WYNC marking his first 100 days in office. De Blasio highlighted the HTC system's exceptional efficiency and cost-effectiveness, which it achieves by providing all healthcare services under one roof. Read more...
---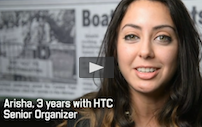 Join the Fight and Work for HTC
Interested in a career in social justice? Learn more about what it takes to be a union organizer fighting for the rights of hotel and gaming workers across New York City, northern New Jersey and the Capital District. Watch video...
---