In a day that everyone who was present found to be interesting, the viable Democratic candidates for New York City Mayor and Public Advocate came to Gertrude Lane Auditorium on Monday, April 29 to share their views and answer questions from members. Read more...

Right now there is a vacant lot at 620 Fulton Street in Brooklyn. But in the not too distant future it will be the site of the new Brooklyn Health Center. Read more...

Thai Fruit Processor, Natural Fruit Company Ltd, filed criminal and civil lawsuits against British Labor Activists, Andy Hall, after a report, which he worked on, detailing the company's alleged human rights violations was published. Read more...
---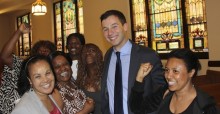 Join the Fight and Work for HTC
Interested in a career in social justice? Learn more about what it takes to be a union organizer fighting for the rights of hotel and gaming workers across New York City, northern New Jersey and the Capital District. Read more...
---